Artist: Rafael Morales Cendejas, Mexico
Work: Navigations
Cartonera book in accordion made with antique book of history. Altered with calligraphy, rubber stamps and collage. Edition of 10 copies. Dimensions: 20 cm x 15 cm (closed) 40 cm x 90 cm (open). Retail price: 45 GBP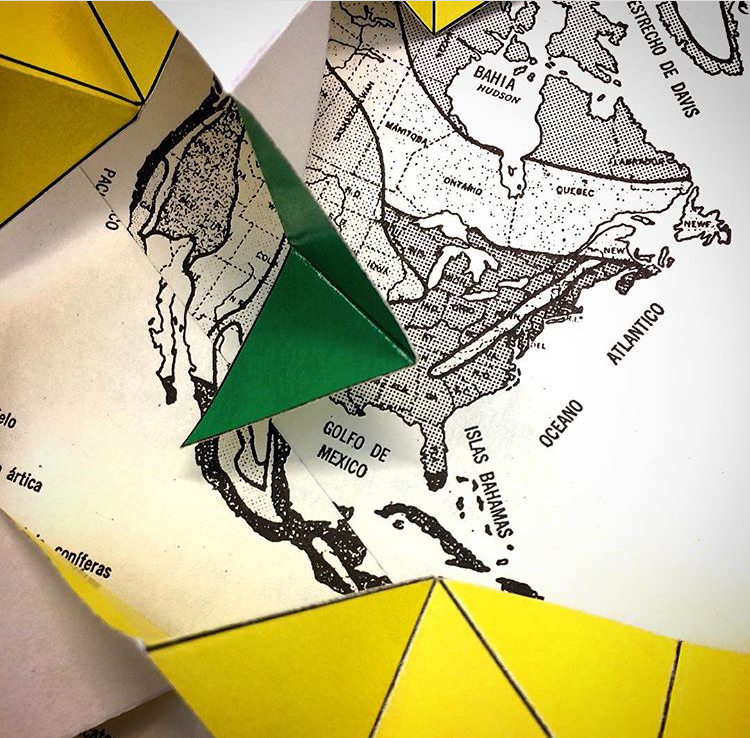 ARTIST'S STATEMENT
Rafael Morales Cendejas works and lives in Mexico, his artistic process is deeply influenced by the recognition of new literary forms, his projects linked through the platform of self-publishing, a concept that derives from do it yourself culture, used by subcultures with a lot to express but with low visibility and resources. His publications are interested in covering the individual and collaborative perspective, he explores print techniques and distribution media to generate audiences through cultural strategies and suggest the necessary conditions for dialogue between authors, readers and objects. His experiments in photography, illustration, performance, drawing and video, are transformed and structured into a methodology of editorial design to take the book art form, with the possibility of being studied as an object. Rafael's works recover the gesture of touch, interactivity and intertextuality, he is under constant evolution, as well as the process of its production.
CONTACTS
Email: rafaelmoralescendejas@gmail.com
Website: www.rafaelmc.co.uk
Instagram: www.instagram.com/@jesuisrafamorales/
More work: www.editorialfacsimile.com
Twitter: @editorialfacsimile
Magellan Exhibition 2022
Portfolio of Images for 'Voyage of Discovery'
Here is a selection of images of works in the exhibition. Scroll down this page for comprehensive individual Artist submissions, including descriptions of their work, more images, artists' statements and contact details.