Artist: Pat Hodson, UK
Work: Unfinished Journey
I have been working on an idea around a broken circle; exploring Magellan's last journey; his attempt to circumnavigate the Earth in one go, sailing clockwise from Spain to the Phillipines, where he was killed, and his journey ended. This book records significant places he landed, or passed by, with names and dates lasercut into the fabric. By reading it clockwise, places are noted, with the dates on the reverse of the fold.
The piece refers to time, movement of the earth, the rise and swell of the seas he navigated, the blue symbolizes 'darkness made visible; and the cold deep. The format is an open (broken) circle formed into a spiral – suggesting the natural force of sea, waves, and whirlpools.
Structure A continuous fold book, with 33 sections folded at the fore edge and stitched in the gutter. Thermal transfer print, (dye sublimation) with Disperse dyes, from hand cut paper stencils. Lasercut type, designed in Illustrator.
I chose a Lutradur (non woven polyester), a material which would take dye colour well, as well as cut and fold into shape without collapsing.
Dimensions Diameter is 49cm, although the piece is flexible, and could occupy a space of 49cm x 45cm (as photographed). Height is 10.5cm high at the outer edge and 2.5cm at the inner edge.
Unique work/£150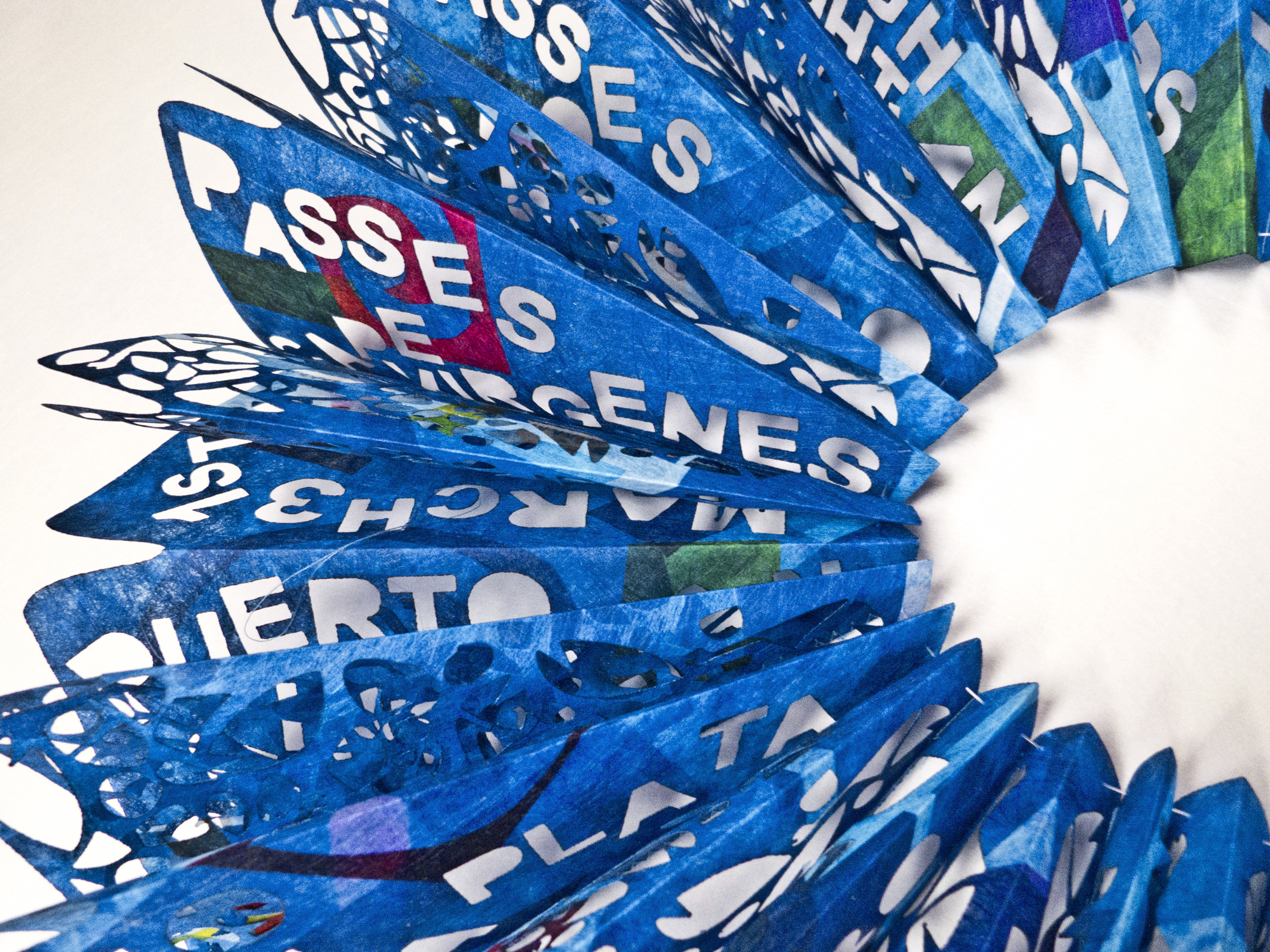 ARTIST'S STATEMENT
I make unique book objects, and multiples in small numbers – often combining hand with digital process. Some record my response to place and time, through colour and drawing, while others explore the physicality of surface, whether of paper, or with more experimental materials and print technologies such as heat fused polyester and plastic lamination.
I use the book form as a place to explore ideas, techniques and materials; or to record significant places and journeys.
CONTACTS
Email: pathodson26@gmail.com
Magellan Exhibition 2022
Portfolio of Images for 'Voyage of Discovery'
Here is a selection of images of works in the exhibition. Scroll down this page for comprehensive individual Artist submissions, including descriptions of their work, more images, artists' statements and contact details.