Artist: Louisa Boyd, UK
Work: Cartography
"Cartography I" is an etched book, bound using a Turkish map-fold structure with a hand tooled leather cover. It uses abstract imagery to evoke ideas of mapping and is part of a series of works that explore ideas of human existence and a sense of place through symbols and technique. Mapping is used as a way of making sense of our environment and this piece considers this on both a physical and emotional level. It uses the book structure, the imagery and the method of making marks to allude to its meaning. The piece includes three internal folded pages, featuring an etching printed onto Somerset paper on each page. These pages can be opened flat to be viewed individually, or the book may be viewed sculpturally. The end papers are collagraphs printed with oil based inks onto Magnani paper, with a brown leather cover featuring the title of the book, blind embossed. There are two versions of Cartography, each with an edition of three.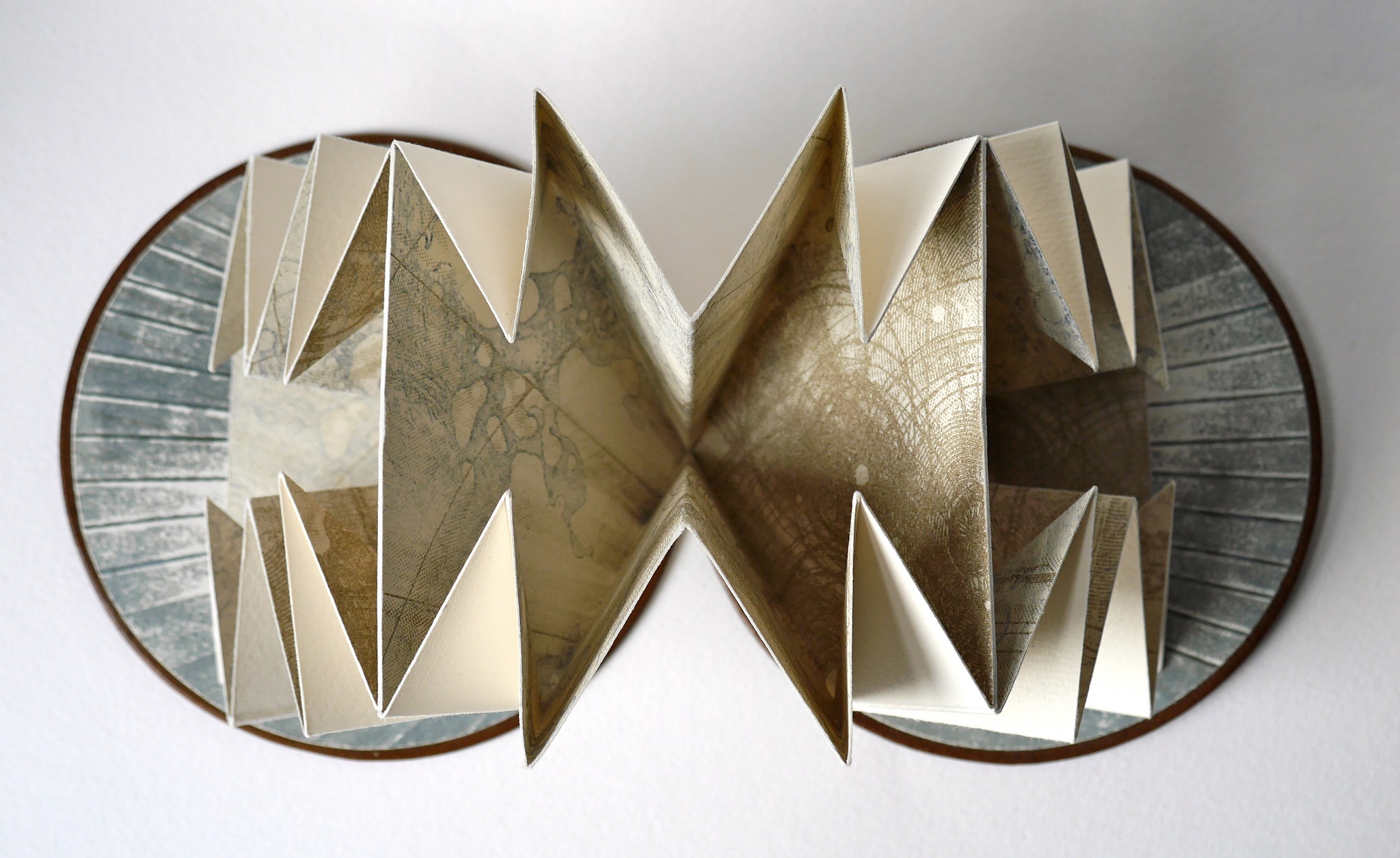 ARTIST'S STATEMENT
I first started making artist's books as I was using sketchbooks in an unusual manner – cutting through pages to make complex images that relied on the pages before and after them to complete them.  From this, I began to see the artist's book as an avenue to explore paper as a three dimensional medium and traditional bookbinding techniques provided a core structure for making paper sculptures. As my work has progressed, I have integrated more traditional bookbinding skills and pursued training so that I can incorporate further techniques into my one off and low edition pieces such as leather work and hand tooling. In conjunction with this, I have developed my work using a variety of printmaking methods such as etching, linocut, woodcut, wood engravings and screen printing. The combination of hand book binding and printmaking seem to complement one another and support concept in many of my works which often address ideas of memory and knowledge and how this is transferred across generations: they both use skills that rely on methods that have remained unchanged for centuries.
Most of my work centres around the idea of place and the connection we have as individuals to both our environment and those that surround us. Symbols of nature, mapping and representations of both our terrestrial and celestial environment feature frequently in my pieces; imagery, often abstract in nature, that attempts to define the relationship we have with home.
Website: www.louisaboyd.com
Email: louisaboyd@hotmail.com
Facebook: www.facebook.com/louisaboydart
Instagram: www.instagram.com/louisa_boyd/
Twitter – @LouBoydArt
Magellan Exhibition 2022
Portfolio of Images for 'Voyage of Discovery'
Here is a selection of images of works in the exhibition. Scroll down this page for comprehensive individual Artist submissions, including descriptions of their work, more images, artists' statements and contact details.