Artist: Jill Lauriston
Work: Carteira escrivaninha di Fernao de Magalhaes
In a dusty corner of a museum in Portugal lies an old black writing box. It is now believed to have belonged to Ferdinand Magellan and to have been brought back after his death in Mactan on the Victoria by Juan Sebastian Elcano. (Actually I found it in the local Oxfam shop!). I propose to add his feather pen and ink, and some other artefacts which he might have found on his voyage and for the book arts element to create some scribbled personal notes on the voyage, chronicling some of the thoughts of Ferdinand about the circumnavigation. For this, I am ageing some Three Rivers handmade paper. The writing box has a small internal drawer with a wooden lid, which makes it look older than it actually is, maybe dating back to 1521?
You can read Jill's Magellan journal here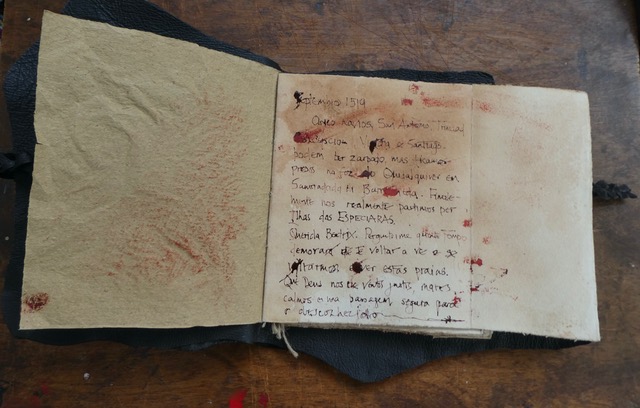 ARTIST'S STATEMENT
I am a founder member of the new Sheffield Book Arts Club, and have been making books for a few years. I was a professional University administrator in Sheffield but as hobbies I have painted in watercolour for many years, and also work in textiles, so I would class myself as a Maker.
CONTACTS
Email: j.lauriston@shef.ac.uk
Magellan Exhibition 2022
Portfolio of Images for 'Voyage of Discovery'
Here is a selection of images of works in the exhibition. Scroll down this page for comprehensive individual Artist submissions, including descriptions of their work, more images, artists' statements and contact details.